" I wanted to let you know I passed my driving test at the end of May. Thanks for your help with my nerves and I wouldn't hesitate to recommend you to family and friends. The result is I am on the road now with no signs of the nerves I suffered coming up to my driving test. Thanks again. Take care. Margaret."
Driving Test Nerves.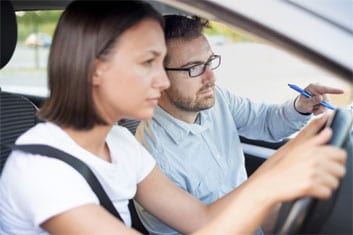 Every day I would receive a phone call from someone who has just failed a driving test.
This could be for the second third, or fourth time, and each time it has been because their "nerves" have let them down.
Their driving Instructor has told them they could pass it easily, but they just need to remain calm for that time and to focus.
To millions of people that is easier said than done.
For most people, the lead up of the driving test can be just as bad as the test itself.
Ultimately, thoughts of what might happen, or what could go wrong, can bring on anxiety and stress.
Clients have experienced some or all of the following symptoms;
Fear of impending doom in the run-up to the test.
Feeling nauseous, a dry mouth, generally run down.
A shaky leg or trembling hands when driving or changing gear.
Inability to concentrate or recall information during the written test
The Feeling of Social Disgrace
With friends and family all waiting to see if they have passed.
As well as listening to all their friends' stories about how they 'passed the first time- and it was so, so, easy!'
As a consequence, in the event the client does fail a driving test, it adds even more pressure on them for any future test they take.

Fast Track Hypnosis can help to relieve many symptoms of driving test stress, as it is designed to help the client to perform under pressure.
Additionally, It will also help to mentally prepare, and give that extra confidence needed to pass their test.
You WILL pass!
With the use of Fast Track Hypnosis and the ability to relax the client is able to give the very best display of their driving ability.
Not only to the examiner, but they will also to develop a more positive attitude towards driving in general.
The old expression "calm down and you will see it all in a different light" is very true using my type of therapy.
The whole process is normally completed in one session depending on the response and commitment from the client.
A CD or Download is also supplied to reinforce the session.
Together this ensures they achieve this wonderful state of relaxation themselves and pass their driving test!.

Client Testimonials
I am writing to thank you Alan for helping me pass my driving test at the end of last month. I was really fed up with the number of times that I had failed- 8 times!!! In fact, after I had gone through two driving instructors and and both said that they were not going to give me any more lessons.
Having failed my driving test 3 times I came to see Alan as a last resort. Consequently, I was in despair as I needed to get my test for work. The session was amazing – I walked out sooo confident that I would pass my test – and I did! Alan – you are a lifesaver.