NEW Fast Track Gastric Band Hypnosis in Northern Ireland - Gastroband

" I went to Alan, and within two weeks, I lost 11lbs ( 5 kilos ). I play the CD every night as it helps me to relax. Thank you, Alan, Trevor "
Gastric Band Hypnosis in Belfast and N Ireland – Gastroband
Over the 35 years, I have been in practice, I have seen various trends in Hypnosis whenever a new idea has come into the public eye.
I had been inundated with people who wanted to use Hypnosis when it was noted that the boxer Steve Collins who fought and beat Chris Eubank.
Steve had used Hypnosis for sports motivation as if it were something completely new. It Isn't!.
In 1996 Steve Collins beat Chris Eubank for the World Boxing Organisations Super-middleweight title.
Collins was programmed to deliver two punches to Eubank's one. In the fight Eubank threw 300 punches, Collins threw over 600!.
In fact, I personally have helped several world champions in various field to attain that accolade using Fast Track Hypnosis
Plus it was also used by me on my children for their horse riding. Consequently, all three attained the status of Show Pony Rider champions of the year.
On another occasion, it was proven that Hypnosis could also increase a woman's bust size.
It can help by merely regressing the person back to their younger years of puberty and doing some visualisation techniques with them.
Once again it was sensationalised in the newspapers (and NO I am not doing that one).
I used Fast Track Hypnosis on my wife for the births of our three children (the first time over 30 years ago).
My wife didn't know that she was pregnant with our youngest daughter until she was 36 weeks pregnant, simply because she was using Hypnosis to Lose weight!
The latest one now is the Hypnotic Gastric Band.
Hypnosis Gastric Band

Basically, the person is placed under Hypnosis, and a visualisation technique used to "convince" the subconscious mind the person has received a Hypnotic gastric band.
The theory behind it is that it " tricks " the brain into believing the body doesn't require as much food to feel full up. Consequently, they would lose weight by changing their eating patterns.
With regards to my weight control session which Reporter Louise Clarke recently featured, and her subsequent weight loss by using my techniques.
Having been put to the test with it on numerous occasions by the media, my philosophy was" If it works then don't change it".
However, because of the recent media hype about the Gastric band Hypnosis, I have been inundated with people pleading with me to make available a Fast Track Gastric Band version of this.
They feel they would like to try it, but without the considerable expense that goes with it for multiple sessions and that's what I created.
So instead of going for a series of sessions (and a lot of expense), the Fast Track Hypnosis Gastroband is STILL completed on the ONE course.
However, it comes with all the extras put in as well i.e.
Fast Track Hypnosis + Laser Therapy + Gastric Band Hypnosis visualisation + professionally produced support CD or Download + plus Guarantee!
The Fast Track Gastric Band is an alternative to the hugely successful Fast track Hypnosis to Lose Weight and Laser Therapy session. The Client can choose whichever one is more suited to their needs.
Will the Fast Track Gastroband work for everyone?
In fact NO!
Simply because of something else – PHOBIAS!

There are lots of people out there who have various phobias, which would prevent them from using this technique, as it would be too distressing for them, such as the following phobias:
Doctors……………Iatrophobia Injections…………..Trypanophobia
Operations………..Tomophobia Surgical operations………Ergasiophobia
The list is endless!
The person would have to come for 3 or 4 sessions to deal with the phobia. After they have been treated for that, then they do the Fast Track Hypnosis Gastroband session.
However, the Fast Track Lose Weight by Hypnosis version would do just the same in the first place!
GUARANTEE
In the unlikely event of a client experiencing any difficulties within one month of the Hypnosis Lose Weight or Gastroband Gastric Band Hypnosis session.
If they require a booster session, this second session is entirely free of charge.
So there you have it, you now have the option to choose which Fast Track Weight Loss session suits you the best.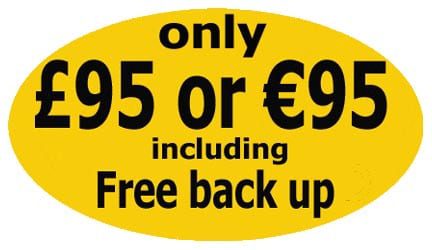 Client Testimonials
I came to see Alan 6 months ago for the Gastric Band Hypnosis and I have lost 3 1/2 stone (22 Kilos ). I'm amazed at how easy it was and fast as well! I have been to other Hypnotherapists, but it didn't work. Alan's Hypnosis is brilliant! I only had to go for ONE session, and it started right away. If you want to lose weight – see Alan Gilchrist. Kelly.
I was so relaxed when coming to Alan. It is now ten weeks, and I have lost two stone, 7 pounds. And I am still losing. I never thought it would be possible to lose weight this quickly.It is life-changing and can't fault Alan whatsoever. Thank you so much for everything, Alan. You have given me a new lease of life……Leanne